Who We Are
Passionately Preaching the Uncompromised Gospel
Experience Church with a Difference!
The Way Church is a Spirit Filled NonDenominational church that exists to Help as many people as possible Find and Follow Jesus by preaching the uncompromised Gospel.
You can expect powerful live worship experiences, passionate preaching and an awesome KidsChurch in a safe and fun environment. The Way Church meets on Sundays at 10:30am inside of Martin Luther High School on 76th St directly across from Southridge Mall.
We look forward to meeting you this Sunday!
---
---
Our Services
Service Times
---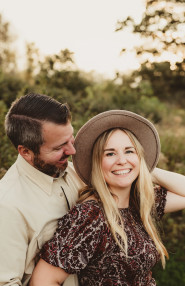 Joshua & Emily Waldoch
Pastor
Pastors Josh & Emily Waldoch passionately preach the uncompromised Gospel, bringing Revival with the power and demonstration of the Holy Spirit, building believers Faith on the Word of God and equipping people to reach their generation for Jesus. Josh & Emily have been in the ministry for many years. They have four adorable children and enjoy pastoring The Way Church which they founded in the Milwaukee area. Josh is a graduate from Rhema Bible College in Tulsa Oklahoma through Kenneth Hagin's ministry and Emily is credentialed through the River Church in Tampa Bay through Rodney Howard-Browne's ministry. They have ministered in several states and in the Jungle of Panama seeing several miracles. From deaf ears being opened, cancer dissolved, COPD cured to deliverance from Drugs and alcohol, freedom from depression anxiety and suicide. Come and be refreshed in the presence of God and expect to experience the Lord's touch on your life.
---