The Lawrencefield Parish Church
The Lawrencefield Parish Church
Who We Are
Lawrencefield Parish Church is a welcoming congregation with a diversity of opinions and deep caring about one another. On the outskirts of Wheeling, WV we are literally and figuratively a beacon on the hill for the community. One of our newer members stated "It is well worth the drive to be part of this caring group of people. One quarter of the congregation are children and youth.
About Us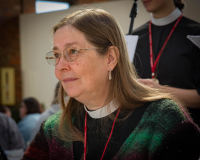 Nancy Woodworth-Hill
Rector
Nancy joined Lawrencefield in December of 2019. She is a certified Spiritual Director, a musician and liturgist. Nancy would be pleased to talk through any questions or wonderments you might have about Lawrencefield or the Episcopal Church. She invites you to "come and see" this welcoming faith community called Lawrencefield Parish Church.