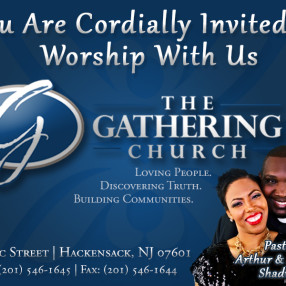 Who We Are
Loving People. Discovering Truth. Building Communities.
Brighten your week with a visit to The Gathering Church. You'll find friendly people, an encouraging message, uplifting music and great programs for everyone in the family. We are a church for people like you who care about building relationships, raising strong families and staying connected to the community. Come enjoy the morning with us - we look forward to meeting you!
The Gathering Church is a Place of Grace where people far from God experience Life in Christ.
---
---
Our Services
Service Times
Sunday
10:00am

-

Worship Experience
What to Expect
---
Pastors Arthur & Alverna Shadwick
Arthur Maurice Shadwick is the Senior Pastor of The Gathering Church in Bergen County, New Jersey. The Gathering Church, a church plant of Bethel Gospel Assembly in New York City, was launched in November 2003 and exists to be a place of grace where people far from god can experience life in Christ. The Gathering Church empowers individuals with tools of influence in the arts and entertainment, business, educational, family, government, media and religious arenas with the understanding that it's these societal spheres that most affect our world. As a man of vision, Pastor Arthur is fervent concerning his faith and desires to see his generation holistically transformed by the power of the Gospel of Jesus Christ. Because of this, many opportunities have been afforded him to serve in various leadership capacities in his local assembly and abroad. As a life coach, he has served the youth in his community and mentored many young men: helping them discover the purpose for their existence and transforming their gifts and talents from potential to power. Pastor Shadwick currently serves as Director of Campus Ministry at the Metropolitan Campus of Fairleigh Dickinson University, Chief Communications Officer for Bethel Gospel Global Assemblies International and as Vice-President of CityServe. He is also a member of The American Association of Christian Counselors. Pastor Arthur Maurice Shadwick resides in Hackensack, New Jersey with his lovely wife Pastor Alverna.
---