Mount Dora, FL
theCross Mount Dora
theCross Mount Dora
WE ARE A FAMILY OF FAITH-FILLED, BIG-THINKING FOLLOWERS OF JESUS CHRIST
Mount Dora, FL
Our Services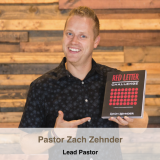 Zach Zehnder
Lead Pastor
Zach completed his undergraduate work at Concordia University Wisconsin. It was there that he met his wife Allison, married in July 2004. From there, Zach earned his Masters of Divinity from Concordia Seminary, St. Louis in May 2010. In the same month Zach accepted a call as Associate Pastor/Church Planter at Holy Cross Lutheran Church in Lake Mary, FL. As part of that call he has planted theCross in Mount Dora, FL. Through Zach's leadership, creative ministry, and community outreach theCross has seen tremendous growth since its inception! Zach and his church have twice made international headlines for doing ministry differently. First, in March 2014, Zach jokingly in a sermon offered to pay up for anyone to get a tattoo of the church logo. To date, 21 people have gotten tattooed with the logo of theCross. On November 7-9, 2014, Zach preached 44 consecutive sermons as he preached through the entire Bible and broke a Guinness World Record for the Longest Speech by an individual at 53 hours and 18 minutes. Over $103,000 was raised for a new non-profit that helps men going through recovery. When he's not doing ministry, his hobbies include playing with his boys Nathan and Brady, travel, reading, volleyball, golf, basketball, ping-pong, eating Chipotle, cheering on Cleveland sports teams, and entrepreneurial ventures. In 2017, Zach wrote his first book called the Red Letter Challenge, which is a 40-day challenge to put Christ's words into practice! You can check it out and order a copy at www.redletterchallenge.com.
This church has a real family feel to it. All are welcome to come. The Gospel is presented in a loving way. Grace is the key to the messages and Jesus is always the hero. The band does a great job of leading the people in true, authentic worship. In addition to all of this Sunday morning stuff, there are a variety of ways to get involved in teams throughout the week that focus on growing the faith of those who believe and meeting the needs in the community.

From the moment I walked through the door, I knew there was something special about The Cross. Friendly faces, an inviting atmosphere, relevant messages all drew me in and kept me coming back week after week. Friendly faces have now developed into lasting relationships, relevant messages have brought about life changing impact, and an inviting atmosphere enables me to invite others. If you are looking for a place to call home, this may be it.

I have spent so many years in different churches. What impresses me most about The Cross. everyone is so friendly and welcoming. I feel like I am not being judged or scrutinized, I feel accepted. Pastor Zack preaches some of the most thought provoking and soul searching sermons I have ever heard. The Cross felt like home so quickly. Definitely a place where Jesus dwells.