The Congregational Church of Manhasset, UCC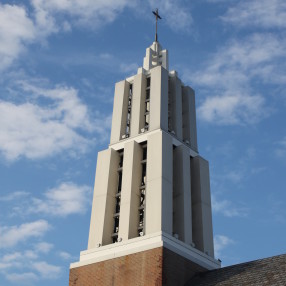 Who We Are
We are a community of believers in Jesus Christ trying to live lives of faith. We believe that being a part of Christ's church means loving God with all our heart, soul, mind and strength and loving our neighbors as we love ourselves. We are working to promote the peace and love of Christ in our community and around the world.

We are a congregation made up of people from diverse backgrounds, holding a variety of beliefs and opinions, and involved in different parts of our community. We come together with a common faith to worship God, and we invite everyone to bring their own unique talents, gifts and wisdom to these efforts.
---
---
Our Services
Service Times
---
Jimmy Only
Jimmy's been with us since 1994. He started out as our Associate Minister, and so endeared himself to us that we hired him as our Minister when that slot opened up. One of the many reasons Jimmy enjoys serving as our minister is his long term connection with our members. He's now marrying the kids who started out in his youth group, and baptizing the babies of the couples he married years ago. Around here, Jimmy is known for his sense of humor and his love for people. He's also famous for his 12 minute sermons, but don't hold him to that. Jimmy grew up in Memphis, TN. He holds degrees from Mississippi State University (B.A.), Southern Seminary (M.Div.) and Boston University (S.T.M.). He's worked as a youth minister, a campus minister, a director of Appalachian Outreach, and with Bread for the World in Washington D.C. Given all those years in TN and KY, he still has a bit of his Southern accent and a taste for barbeque, but he now loves the open minded atmosphere of living in the Northeast, and considers New York his home. Jimmy married his wife, Colleen, in 1990. They met in a seminary world religions class, which he still tries to convince her is highly romantic. Colleen and Jimmy have a son, Matthew, who shares their DNA, and a daughter, Alina, whom they adopted from Ukraine when she was 3. In his free time, Jimmy likes playing the drums, attending U2 concerts, and rooting for the Red Sox. His favorite vacation spot is Block Island, where he and his family meet up with long time friends for a week every summer. His favorite local spot is his den couch, where you can often find him reclining with a good book, engrossed in the subject or headed for a nap, depending upon the demands of the day.
---
Been going to this church my entire life but dislike that the Reverend who has been there for decades spoke extremely negatively about Trump even though the Trump family have been large donors. Churches should stay out of politics...
Create an account or sign in to save your experience.
Go here? Tell us why you love The Congregational Church of Manhasset, UCC. Visited? Tell us what a newcomer can expect.