St. Stephen's Epsicopal Church
St. Stephen's Epsicopal Church
An Episcopal church in Wyandotte, MI
Who We Are
If you're looking for a church home where you can experience God in worship, make new friends, and help the community, we invite you to join us some Sunday. We welcome you whether you are new to faith or have been in church all your life, full of doubt or firm in your faith, young or old, rich or poor, LGBTQ or straight, full of joy or consumed by sorrow. Whoever you are and wherever you are on your journey, you are welcome here.
We are a small but vibrant congregation, full of God's love and the Holy Spirit. We collaborate with other local churches to serve the community through feeding ministries, a food pantry, and food and clothing baskets at Christmas. We are a bunch of imperfect people trying to find where our deep gladness meets the world's deep hunger. As new people become part of our community, we change and grow in new and unexpected ways.
We are located in downtown Wyandotte, Michigan, at 2803 First Street (corner of First and Chestnut). There is some parking in front of the church on First Street, and there is a municipal parking lot just across Chestnut Street from the church. We offer wheelchair accessible entry, seating, and restrooms. We have an elevator to help you get from one level of the church to the next. Our downstairs restrooms are gender inclusive.
About Us
Our Services
Leadership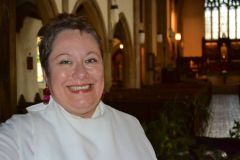 Andrea Morrow
Priest
My passion is helping people transform their lives. I was ordained a priest on December 12, 2015, in the Episcopal Diocese of Michigan. I am also Director of Writing Programs at the University of Michigan Stephen M. Ross School of Business. I didn't grow up in the church. In fact, I am a third-generation unchurched person who lived a mainly secular life until I was in my mid 30s, when I had an unexpected and wholly inexplicable encounter with the Divine. As a secular academic and big fan of postmodernism, I'm not your typical church person - but I've come to realize there is no such thing. Christians are all called to ministry through baptism, and that means there are as many different kinds of "church people" as there are people. I believe God loves all of us and is that in which we live and move and have our being - but I also know that the church is an institution composed of imperfect people (like me!) which has (sometimes inadvertently and sometimes purposefully) caused great harm to other people. Christendom (the fusion of imperial nationalistic and later corporate interests with Christianity) has wreaked havoc on the world and left many people skeptical of the value of following Jesus. We live in a time when Christianity has for seventeen centuries been the religion of empire. When it has become hard to hear the subversive, revolutionary nature of Jesus's message, because it has been so thoroughly co-opted by those in power to legitimate their control. My call is to help people "open the ears of their hearts" to hear the revolutionary nature of Jesus's vision of the kingdom of God and to understand what it means to us today.