St. Stephen's Episcopal Church
Who We Are
Historic Register, Rite 1, Rite 2, small, growing
WELCOME to Saint Stephen's Episcopal Church, an historic community of faith in Newton, Iowa, for nearly 140 years.
We're a small, faithful, and growing group of Christians who learn together, support each other and grow in our faith together. We gather here to worship, to sing, and to hear God's words. We gather here to offer our needs and our joys before God, and to have them heard. We gather here to be refreshed and renewed, and then go out from this place as living bearers of God's love.
St. Stephen's is steeped in history. Our worship is rooted in anglo-catholic tradition, the building is on the National Register of Historic Places (added in 1977), and the church is the oldest church in Jasper County in continual use for worship services. The first worship service in the church building was on April 19, 1874.
---
---
Our Services
Service Times
Sunday
08:00am

-

Quiet Holy Eucharist (Rite One). No music. Children welcome.

10:00am

-

Holy Eucharist (Rite Two) with traditional hymns and adult choir. Nursery staffed, Sunday School for children during the first half of the service (kids come back for the Eucharist).
What to Expect
---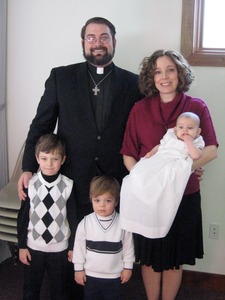 John Thorpe
Fr. John grew up in Oklahoma and studied music and Church History at Oral Roberts University. He married Beth (an Iowa native) in 2001 went to seminary at Yale Divinity School, serving as Curate for three years at St. Peter's Episcopal Church in downtown Albany, NY, before coming to Iowa. He has been the Rector (senior pastor) at St. Stephen's since 2008. Three children grace their family: Edwin, Olan, and Vivienne. Fr. John has served as the Moderator of the Newton Area Ministerial Alliance, Secretary of the Board of Directors for the Episcopal Diocese of Iowa, and Secretary of the Board of Directors of the Pregnancy Center of Central Iowa. He is a Rotarian, plays several kinds of saxophone, and never turns down coffee.
---