St. Richard's Episcopal Church
St. Richard's Episcopal Church
Warmth, tradition, joy – come and see, you'll be pleasantly surprised!
Sky Forest, CA
Who We Are
St Richard's Episcopal Church is a friendly, welcoming, and supportive community.
Each of us is responding to God's Spirit in our personal faith journeys, but all guided by
Scripture, tradition and reason. Worship here incorporates all that, but with plenty of joyfulness in the Lord.
We also learn from each person's viewpoint and experience. So while listening and working together, we follow where the Spirit leads: into deeper relationships and service, here in our mountain neighborhoods, and the world beyond.
We like to say that at St. Richard's you'll find warmth, tradition and joy – in us and the service. Come see for yourself...All are welcome here!
About Us
Leadership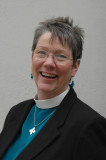 Shelley Denny