St. Peter's Episcopal Church in Old Ellicott City
Who We Are
Rooted in Jesus Christ and serving the world in his name.
St. Peter's is a vibrant community of faith, sharing in the transforming power of God's love, rooted in the Gospel of Christ, nourished in the joy, hope, and beauty that are God's gifts, called to worship, to dream, to risk, and to serve. We endeavor to seek and serve Christ in all persons, always remembering:

With Christ as our Guide,
St Peter's Episcopal Church in Old Ellicott City
Is an Open and Supportive Community
That puts God's Love into Action through
the Sacraments, Spiritual Growth and Joyful Celebration
The doors of St. Peter's open wide in the name of Jesus Christ.
---
---
Our Services
Service Times
Sunday
08:00am

-

Rite II Mass (spoken)

10:00am

-

Rite II Mass (sung with choir)
What to Expect
---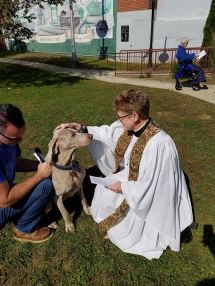 Anjel Scarborough
Priest in Charge
The Rev. Anjel Scarborough is a graduate of the Lutheran Theological Seminary at Gettysburg and has served churches throughout the Episcopal Diocese of Maryland. She is an iconographer and offers retreats/workshops on iconography and prayer.
---