St. Paul's Lutheran Blue Church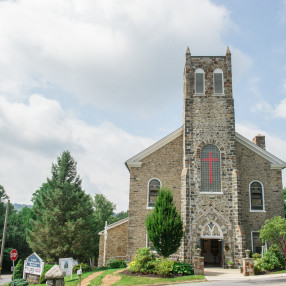 Who We Are
As one of the oldest congregations of any denomination in the Lehigh Valley, we have a long history of proclaiming Jesus Christ as Lord and Savior in the community God has called us to serve. But our history is dead if we do not live into the future, so Blue Church is actively involved with neighboring congregations to strengthen our service in Coopersburg, Center Valley and beyond. We are not a large congregation, but we use our gifts to bring God's love out into our community through our Scouting and Arts programs. As a Lutheran congregation, our worship life is centered on proclaiming in the weely celebration of the Sacrament of Holy Communion.
---
---
Our Services
Service Times
Sunday
09:30am

-

June 1 - Sept 11

10:30am

-

Sept - May
---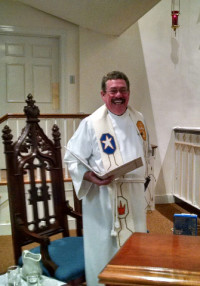 Pastor James Hammond
I am happy to serve St. Paul's Blue Church as your Pastor. I thought it might be helpful to share my background as we get to know each other. I was born in Pottsville,Pa on October 9, 1952. I had a large family of eleven. My family moved from Pottsville to Allentown in the early sixties. I attended William Allen High School and graduated in 1971. In 1972 I entered the U.S. Navy and was stationed in Norfolk, Va aboard the aircraft carrier the U.S.S. Independence CVA-62. I spent three years serving active duty and served three years in reserve. My active duty took place in the Mediterranean attached to the Seventh Fleet. I was discharged from active duty in1975 with an Honorable Discharge and began my schooling. I met my wife Janet in 1976 and we were married in October 1984. My undergraduate work was completed in 1985 at Kutztown University. I entered Gettysburg Theological Seminary in 1987 and completed my studies in May of 1992. My ordination took place on July, 1992 in the Northern Pennsylvania Synod under Bishop Harold Weiss. My first call was to a two point parish in Schuylkill County of that same year. I served Jacob's- Outwood Lutheran Parish until July of 2002. In 2002 I accepted a call at Mt. Zion Evangelical Lutheran Church. I served Mt. Zion Evangelical Lutheran Church until February 1, 2015. From February until November 1, 2015 I have been supply preaching and currently have accepted the Pastoral position with St. Paul's Lutheran Blue Church.
---
That everyone in the congregation makes you feel welcome when you attend Church. Congregational members are always willing to help when asked, specifically for activities that within the Community.
Create an account or sign in to save your experience.
Go here? Tell us why you love St. Paul's Lutheran Blue Church. Visited? Tell us what a newcomer can expect.