Wheeling, WV
Lawrencefield Parish Church
Lawrencefield Parish Church
Real & relational, we share God's openness thru community, cooperation & acceptance.
Wheeling, WV
Who We Are
Similar churches often offer music styles like traditional hymns, contemporary, and passionate reverent. Programs like youth group, children's ministry, missions, choir, and nursery are also typical. by FaithStreet
About Us
Our Services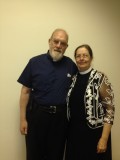 Nancy Woodworth-Hill
Rector and Co-Pastor
Nancy and Don have served as Co-Pastors since 2011. Nancy has served as a musician, Christian education director and now as a priest for over 30 years. She is certitude I Appreciative Inquiry and in a program offering more tools and experience in Spiritual Direction.