St. Paul's Episcopal Church
An Episcopal Church in the High Church Anglo-Catholic Tradition
San Antonio, TX
Who We Are
Serving the Greater San Antonio community since 1883, and inviting all to Personal Transformation, Service to the Commnunity and Witness to the World.
All persons who seek God and are drawn to Christ are welcome here at God's table. We invite you to join us in our Mission as we embrace the liturgy and traditions of the Church, and seek to promote justice, enact mercy, and walk humbly with our God.
Since 2005, The St. Paul's Episcopal Montessori School's Mission has been to provide an outstanding Montessori-based education, in the Episcopal tradition, to culturally and economically diverse groups of children, nurturing the child's mind, body and spirit. The school welcomes children ages 18 months through 12 years of age in its Toddler, Primary, Lower and Upper Elementary classrooms.
About Us
Our Services
Leadership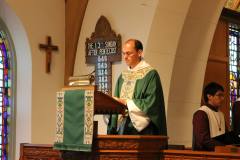 Fr. Brad Landry