St. Paul's Church by-the-Lake
St. Paul's Church by-the-Lake
We worship to the Glory of God and serve our neighborhood every day.
Chicago, IL
Live Stream
Plan Your Visit
Share
Who We Are
St. Paul's Church by-the-Lake is a parish family that was established in Rogers Park in 1882 in the Diocese of Chicago, part of the Anglican Communion of which the Episcopal Church is the American Province. Our worship to the Glory of God is catholic and sacramentally centered in the celebration of the Eucharistic Sacrifice of Jesus, commonly called The Mass. Our mission is evangelical: to bring all persons to the knowledge and love of God, respecting the dignity and freedom of every human being.
Our Services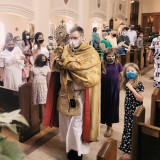 Fr. Matthew Kemp
Priest-in-charge
Fr. Matthew Kemp is serving as our Priest-in-Charge during this transition period following Fr. Heschle's retirement. A graduate of Nashotah House Theological Seminary, Fr. Kemp had been serving as our Curate since 2015, after spending two years on staff at Christ Cathedral in Salina, KS. He has a doctorate in Theology at Loyola University Chicago.