Villa Park, IL
St. Paul Lutheran Church, Villa Park IL
St. Paul Lutheran Church, Villa Park IL
Reaching and holding people for Christ
Villa Park, IL
Who We Are
We love to meet new friends at St. Paul. We are a congregation of the Evangelical Lutheran Church in America, a community of faith that shares a passion for making positive changes in the world.
Through worship, service, and education, we deepen our faith, grow our relationship with God and experience God's grace in our lives.
Do come and see!
About Us
Our Services
Leadership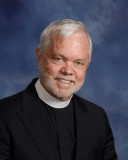 Rev. Stephen H. Swanson
Pastor Swanson's first five years were in Arusha, Tanzania where his father built Ilboro School. He is a graduate of Bethany College in Lindsborg, Kansas and the Lutheran School of Theology in Chicago. He has served churches in Cairo, Illinois; Chicago, Illinois and Denver, Colorado. He and his wife, Maureen, moved from Denver when he was called to St. Paul in December 1999. Maureen is an Advocate Parish Nurse at Concordia Lutheran Church in Chicago. They have five children and several grandchildren.