Reading, OH
St. Paul Lutheran Church, Reading, Ohio
St. Paul Lutheran Church, Reading, Ohio
A Lutheran (ELCA) church in Reading, OH
Who We Are
We are a church who, while keeping many of our cherished traditions, is stepping out into the 21st century, knowing that we need to find new ways to do God's ministry.
We gather frequently for fun and fellowship. God has called us to love our neighbors as ourselves, and we consider our neighbors to be the Reading community, greater Cincinnati, and around the world.
About Us
Our Services
Leadership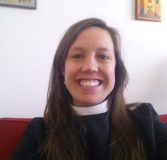 Emily Beckering
Pastor
Reverend Emily Beckering (Pastor Emily) was installed as the 19th pastor of St. Paul Evangelical Lutheran Church on August 31, 2015. Originally from Minnesota, Pastor Emily is delighted to be called to the Southern Ohio Synod of the ELCA to serve in ministry alongside the people of St. Paul.