Who We Are
St Paul Lutheran Church is about 50 years old and has a membership of around 450 with a nice spread in ages from infants to seniors. We have an increase in Baptisms, so young families are continuing to find support and meaning in our ministry as well as our more mature members.
Our ministry includes a growing Sunday school for children and a forum for adults, music, social ministries which are expanding, Bible Study and a women's book group, a seniors group, a crack softball team, and genuine support of each other in our paths. We think it is a wonderful church with a clear mission of reaching out to others, telling Jesus' story, and spreading the teachings of Jesus.
We have two worship services each Sunday. Both, we feel, are rich worship experiences.
If we can be of any help either in answering questions you may have or praying for you or a loved one, please call the church office (860-388- 2398) and ask for Pastor Swenson or Donna Vinelli. They would be happy to hear from you.
About Us
Our Services
Leadership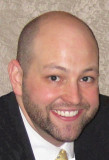 Geoff Sinibaldo
Pastor
Pastor Geoff T. Sinibaldo, his wife, Tammie and their two children reside in Old Saybrook. Pastor Geoff grew up outside of Chicago, IL, and graduated from Carthage College in Kenosha, WI. While at college he started working in ELCA Outdoor Ministry. His five summers at Crossways Camps in Waupaca, WI has been central to his faith and leadership centered in Christian community and hospitality. At camp he picked up the nickname "G-Geoff." Also at camp he met another counselor named Tammie and they were married at Pine Lake Camp in 1997. The Sinibaldos enjoy hanging out, playing outside, getting to the beach and laughing as much as possible. Geoff went to Luther Seminary in St. Paul, MN, graduating with a Master of Divinity. He was ordained to the ministry of word and sacrament on July 20, 2002, and has served congregations in SD and CT. While serving in the parish full time, Geoff went back to school at the Lutheran Theological Seminary at Philadelphia, PA graduating with a Masters in Sacred Theology in 2011. His thesis focused on congregational renewal and evangelism. His personal motto is: "Reforming the church, one conversation at a time." He blogs at www.sinibaldo.wordpress.com Geoff is an active leader in the New England Synod of the ELCA. In addition to serving St. Paul as pastor, he also serves as dean of the Eastern Connecticut Rivers Conference. While enjoying the variety of gifts and challenges of parish ministry, he also loves meeting new and old friends at Camp Calumet in Freedom, NH and Luther Crest Bible Camp in Alexandria, MN.