St. Patrick's Episcopal Church
Who We Are
Explore your Questions in a Child-Friendly Community with creative worship
We believe in God who loves each of us as we are, and who shows us that love in the world around us, in the stories of our faith, and most fully in Jesus Christ. We respond to God's love in our daily lives, caring for all those around us, working for the good of Creation, and seeking to grow into our identity as God's beloved children.
Our life together is centered on worship, common prayer, work, and play together. Our Sunday worship is a service of Holy Eucharist, also known as Mass, Communion, or the Lord's Supper.
We welcome questions, doubts, and wondering. We believe that by engaging in such questions we grow in our faith.
---
---
Our Services
Service Times
Sunday
10:30am

-

Holy Eucharist, Rite II (Communion Service)
What to Expect
---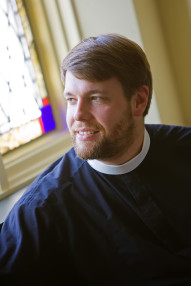 Joshua Varner
The Rev. Joshua Varner has served as the Vicar of St. Patrick's Episcopal Church since March, 2012. Prior to coming to St. Patrick's, he served for 10 years in the Diocese of North Carolina. He holds an M.T.S. degree from Harvard Divinity School, an M.Div. from Virginia Theological Seminary, and a B.A. in Music and Religion from Sewanee: The University of the South. Joshua brings experience working with children and youth and his skills as a musician to our community. He offers sermons for adults and also for children. He leads monthly Sunday School for children after worship, helps with Adult Sunday School before worship, and offers his musical gifts each week at St. Patrick's. He also provides music for events throughout the Diocese of Georgia, and has led several Youth Mission Trips for the Diocese.
---