St. Patrick Catholic Church
Catholic, Evangelizing Church, Portland,
Portland, OR
Who We Are
Founded in 1889, we are the oldest Catholic Church in Portland, bringing the New Life of Jesus to the city. We seek to be a parish that develops programs of New Evangelization in the heart of Portland. St. Patrick is a parish of the Archdiocese of Portland and an apostolate of the Saint John Society.
About Us
Leadership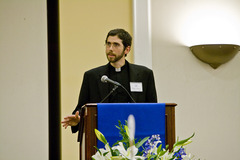 Fr Ignacio Llorente