St. Mary's Catholic Church Norwalk Connecticut
Who We Are
Traditional, Latin, English, Spanish, Gregorian Chant
We invite you to explore our unique, vibrant, multi-ethnic community that is unified in its reverence to the Trinitarian God in the Holy Sacrifice of the Mass. We offer reverent Masses in English, Spanish, and Latin: the mystical Mass of countless Saints since the early days of the Church. Masses are complemented by our high-caliber music program, offering you an opportunity to encounter the artistic treasures of the Church in a way that is rarely found today. We have social groups, festivals, weekly coffee hour after Sunday 9:30 am Mass, and processions on feasts through the streets of Norwalk – all fostering a united community of faith from a diverse group of parishioners.
Join welcoming groups that offer opportunities to participate in Catholic devotional practices. Enroll in a religious education class or bible study to deepen your faith. If you live nearby (or even if you are just in the area for the day) please stop in and visit our parish for Mass. Make yourself known – we look forward to meeting you!
---
---
Our Services
Service Times
Sunday
08:00am

-

English, Low Mass (no music)

09:30am

-

Latin, Solemn High, chant, polyphony,professional choir

11:30am

-

English, sung Mass

01:15pm

-

Spanish, sung Mass
---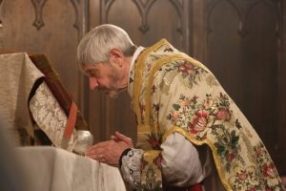 Father Richard Cipolla
pastor
It is a great honor, privilege and a source of great happiness for me to be the Pastor of St Mary's Parish. Before becoming Pastor I was a parochial vicar at St. Mary's for almost eight years and was privileged to be a part, under the guidance of Fr. Markey, our former Pastor, of the restoration of the liturgical life of the parish and the restoration of the beauty of the church building itself. To be Pastor of a multi-ethnic, multi-cultural, inner city parish is not easy work, but for me it is truly a labor of love and a source of Christian joy. The heart and soul of this parish is the worship of God in Spirit and in Truth, in the Beauty of Holiness. It is at the Holy Sacrifice of the Mass that one encounters the living God in a full albeit hidden way. The whole staff of the parish, including our Deacon, Steve Genovese, and each of our families understand that why we exist is to provide a place worthy of the celebration of the Sacrifice of the Mass and to put the Love that is at the heart of that Sacrifice to work in our own lives wherever we are and spread the Good News of the Gospel. The Traditional Form of the Roman Rite lies at the very heart at the parish, and its beauty spills over to all Masses celebrated here, whether in English or in Spanish. Those of you who are traveling to this part of the country, please come and visit St. Mary's. You will always be welcomed in the name of our Lord Jesus Christ.
---