St. Mary Catholic Church
A Catholic church in Siloam Springs, AR
Who We Are
We are a Catholic community of believers, rich in tradition and growing in diversity.
We provide a barrier-free environment in which parishioners of all ages and cultures share the same faith, theology, sacramental and liturgical celebrations, instruction, and other social and spiritual events.
This enables us to connect with the world in which we live by proclaiming the Gospel through our actions, words, and prayers.
Our Services
Leadership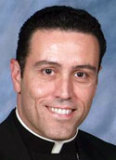 Father Salvador Marquez-Muñoz
Any new person that comes to St. Mary Catholic Church will be greeted by a parishioner at the door. We do our best to make every person feel welcomed.