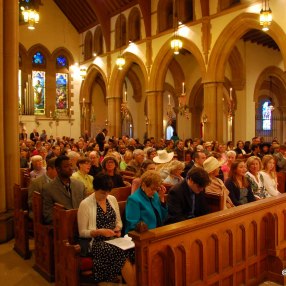 Who We Are
Joyfully seeking and serving Christ
Similar churches often offer music styles like traditional hymns, traditional (hymnals & choir), and contemporary. Programs like children's ministry, community service, youth group, missions, and young adults are also typical. by FaithStreet
---
---
Our Services
Service Times
Sunday
08:00am

-

Our first Service each Sunday is a simple said communion service with a sermon. The service has been described as quiet and contemplative and usually lasts about 45 minutes. Worshipers often stay after the service to enjoy coffee and fellowship. It is also an ideal service for a busy schedule. For this service we worship in the side chapel in the front left side of the church.

09:00am

-

Each week we gather for a worship service designed for children from roughly 2-7 years old. The service is brief (30 minutes), hands on and interactive, while still covering the basic elements of worship and prayer. Childcare is available beginning immediately after this service for people who would like to stay for the later service.

10:00am

-

Our biggest worship service each week is the 10:00 am service on Sunday morning. The joy in our community is clearly evident. We sing a mix of traditional hymns, accompanied by the choir (the choir does not sing in the summer). Communion is offered to all, and healing prayer is offered for those who would like to participate. After the service, we gather in the Assembly Hall for fellowship at the coffee hour.
---
Leadership
John Mennell
---