Portland, OR
St. Luke Lutheran Church
St. Luke Lutheran Church
Worship - Connect - Serve - Grow
Portland, OR
Who We Are
St. Luke is a vibrant community shaped by the Lutheran tradition and sent out into the world to live out God's love in Christ.
We welcome all who seek a closer relationship with God. While you may come from another faith tradition, or none at all, we hope to join hands with you in ministry inside our four walls and also building relationships with those in need beyond our doors. Since our founding in 1943 special emphasis has been placed on personal spiritual growth and serving our neighbor.
Together with the 10,000+ congregations of the Evangelical Lutheran Church in America (ELCA), we celebrate the gift of who we are – people of varied ethnic, gender, sexual, age, and spiritual backgrounds.
Find out more about St. Luke by using the "About Us" menu on the right-side of this page.
Come and experience the journey as Christ shapes us all!
Enjoy some of our Pastor's sermons on iTunes: https://itunes.apple.com/us/podcast/st.-luke-lutheran-church-portland/id818161922
About Us
Our Services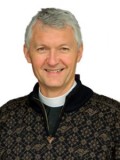 David Knapp
Senior Pastor
I've had the honor of serving as a pastor of St. Luke since 1991. First as associate pastor and then in 1999 as the senior pastor. It continues to be a great journey. Today with my wife and three children, St. Luke has been a home where justice ministry thrives. Hands-on ministries to those in need, funding local agencies that make a difference in peoples lives; these are the signature aspects of this inclusive congregation of over 1,300 members. Come by. Not to visit, but to find a spiritual home and a reason to give yourself away in love following a living Christ.