St Luke Lutheran Church
A Lutheran (ELCA) church in Cold Spring, KY
Who We Are
St. Luke Lutheran Church is an open and welcoming community of faith. We are affliated with the Evangelical Lutheran Church in America but many of our members come from a wide varity of faith backgrounds.

We are committed to sharing God's unconditional love with everyone. Our communion table is open to all and our hospitality is meant for everyone. We recognize that we are all imperfect and we are grateful to be held in the grace of God's love. We are a family of believers dedicated to living out our faith in hope.

You are welcome here. We hope to see you soon!
About Us
Leadership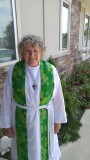 Joan Armstrong
Pastor
A life-long Lutheran, Pastor Joan Armstrong graduated from Western Illinois University with a B.A. in English and German. For most of her career, she worked in the health insurance claims world, most recently running a successful consulting business until 2003. At that time the still, small voice that had been wispering a call to the ministry of Word and Sacrament raised its volume and she answered. She graduated from Trinity Lutheran Seminary in Columbus, Ohio, and was ordained in 2009. She led a a church in southwestern Pennsylvania before being called to St. Luke in February of 2014. Where she serves with joy and gratitude. In her spare time, Joan enjoys reading, sewing, quilting and petting her cat, Rudy.