St. Louis Byzantine Catholic Mission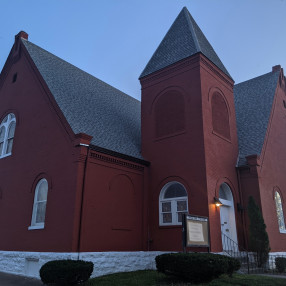 Who We Are
Slava Isusu Christu! Slava Na Viki! Glory to Jesus Christ! Glory Forever!
Welcome to all who visit!
We are an Eastern Catholic community dedicated to gathering together everyone who wishes to worship in the Liturgical tradition of the Byzantine Catholic Church. Located in the St. Louis, Missouri Carondelet neighborhood at 7100 Virginia Ave., Saint Louis, MO 63111.
The St. Louis Byzantine Catholic Mission is within the Eparchy of Parma, Ohio which is headed by the Most Reverend Bishop Milan Lach. The Eparchy of Parma is within the Archeparchy of Pittsburgh headed by Archbishop William C. Skurla. The Archeparchy of Pittsburgh is one of the 22 "Sui Iuris" Churches in the communion that is the Catholic Church which is headed by Benedict XVI, the Pope of Rome.
We encourage you to come experience the rich traditions of our Liturgy through your senses: the fragrant incense, the glorious icons, and the sounds and movement of praise, worship and thanksgiving.
Liturgical Schedule
Saturday evening Vespers (Readers Service) are held at 5:30 P.M.
Sunday Matins (Readers Service) are held at 1:00 P.M.
Sunday Divine Liturgy are held at 2:00 P.M.
Holydays are normally celebrated at 6:30 P.M. the evening before or as announced.
Confessions available upon request.
You can also find more information about our church, and the Byzantine Catholic traditions at our website which is updated weekly - http://www.stlouis.byzcath.org/
We are on facebook as well - https://www.facebook.com/stlouisbyzantinecatholic
---
---
Our Services
Service Times
Sunday
01:00pm

-

Matins (Readers Service)

02:00pm

-

Divine Liturgy
Saturday
05:30pm

-

Vespers (Readers Service)
---