Saint Petersburg, FL
St Jude Great Commission Church
St Jude Great Commission Church
Living the Great Commission
Saint Petersburg, FL
Who We Are
We are a unified body of believers spreading the Gospel of Jesus Christ; empowered by His Holy Spirit to witness, to prosper, and experience Good Sucess throughout our community and the world beyond; teaching, leading, and living the Great Commission! Our express purpose is to carry forth the Great Commission (Matthew 28:19-20). It is equally our mission to create an atmosphere that will change lives spiritually, intellectually, socially, and economically through continued learning, leadership, and service for God to our community and wherever we travel in the world.
About Us
Our Services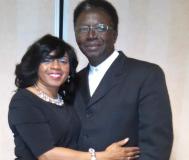 Edward M. Nesbitt Jr.
Senior Pastor
Elder Edward M. Nesbitt, Jr. is Senior Pastor at St. Jude Great Commission Church, where he has served since 2005. Pastor Nesbitt was ordained in August 1998 after having served God faithfully for more than 10 years in the areas of Trustee, Deacon, and Minister respectively. Pastor Nesbitt served as Associate Pastor of New Philadelphia Community Church for seven years before answering God's call to Pastor St. Jude. Pastor Nesbitt attended Gibbs High School and St. Petersburg College, and the Exegetical Expository Preaching and Teaching Institute and Seminary Extension in St. Petersburg, Florida. Pastor Nesbitt is married to Lady Jo Ann Nesbitt . They have three adult children and 10 grandchildren.