St. Joseph Church of Christ
St. Joseph Church of Christ
SJCOC desires to live in God's kingdom now by daily practicing what Jesus taught.
St. Joseph, IL
Who We Are
We are a community of people from various life backgrounds and church denominations that are united by God's unconditional love and committed to Jesus' wondrous teachings about God's kingdom, a kingdom where God presently rules lovingly and justly over all aspects of reality in His Son, Jesus. We believe we can experience and share the love and justice of this beautiful kingdom as we apprentice ourselves to Jesus as Lord and Teacher, putting into practice his world famous and life changing teachings, not just in a chapel building, but in our day-today lives--among our families, co-workers, neighbors, strangers, enemies and friends.
About Us
Leadership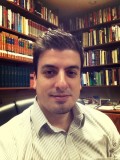 Vincent Santanelli
I grew up in a small, colonial sea-port town in Southern Connecticut, spent the last 10 years in Dallas, TX (where I attended seminary and, more importantly, met my wife) and am a recent resident of St. Joseph IL. Before becoming a pastor I worked in sales and then worked in education for 7 years, where I chaired the History Dept. and directed the European Tours program. In addition to pastoring a church, my wife and I started a local community building initiative called Love Your Neighbor, which is encouraging local residents to move from a consumer mindset to a citizen mindset. I am a member of the Chamber of Commerce and very active with other faith communities in the area. I love playing blues guitar and harmonica, eating Italian and reading.