St. John's Episcopal Church
Who We Are
Following Jesus. Inspired through Worship. Boldly loving ALL.
As followers of Jesus, we believe all people—without exception—are God's beloved and are called together by the Holy Spirit. Inspired through time-honored worship, the people of St. John's Episcopal Church strive to boldly love every person and all creation. This is summarized by our motto: Following Jesus. Inspired through Worship. Boldly loving ALL.
---
---
Our Services
Service Times
Sunday
08:30am

-

Simple said Eucharist.

10:00am

-

Holy Eucharist with Hymns & Choir
Wednesday
12:00pm

-

Holy Eucharist & Healing
What to Expect
---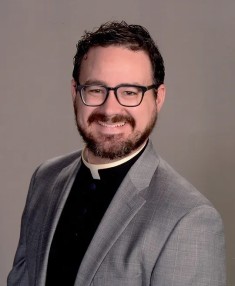 The Rev. Dr. Jared C. Cramer
Rector
Father Cramer was raised in the Churches of Christ, and worked in several ministry positions in that tradition before moving into the Episcopal Church while completing his Master of Divinity at the Graduate School of Theology of Abilene Christian University in Abilene, TX. He then received his Anglican training through the completion of a Master of Sacred Theology at the School of Theology of the University of the South in Sewanee, TN. He holds a Doctor of Ministry degree, also from Sewanee's School of Theology, with a focus upon Anglican liturgy, theology, and history and its intersection with the life of a congregation. He is currently pursuing a third master's degree, an Executive Master of Nonprofit Administration at the Mendoza College of Business in the University of Notre Dame. He served his first cure as a priest in the Lilly-endowed Foundations for Spiritual Leadership Program at Christ Church in Alexandria, VA. After two years there, our parish, with the Bishop's consent, called him to come to St. John's to serve as our Rector, beginning in June of 2010. Father Cramer is active in the Episcopal Church at many levels. He represents the Central Region of the Diocese of Western Michigan on Diocesan Council, also serving as Secretary of Council. He is an Alternate Deputy to the next General Convention of the Episcopal Church. Previously he has served as Dean of the Lakeshore Deanery, Convener of the Deans of the Diocese, and Chair of the Commission on Ministry. He is a member of the Society of Catholic Priests in the Episcopal Church and the Anglican Church of Canada, where he serves as Convener of the Great Lakes Chapter of the Society, comprising all the dioceses in Michigan along with Northern Indiana and the Diocese of Huron in the Anglican Church of Canada. He is the author of three books available on Amazon.
---