St. John The Baptist Church
St. John The Baptist Church
Come worship the Lord. Pray with us in the same way as the early Christians.
Pueblo, CO
Who We Are
The Orthodox Church is the original Christian Church, the Church founded by the Lord Jesus Christ and described in the pages of the New Testament. Her history can be traced in unbroken continuity all the way back to Christ and His Twelve Apostles. For over twenty centuries she has continued in her undiminished and unaltered faith and practice. Today her apostolic doctrine, worship, and structure remain intact. The Orthodox Church maintains that the Church is the living Body of Jesus Christ.
About Us
Our Services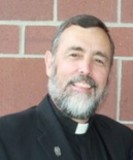 Fr. Stephen Powley
Presiding Priest
Fr. Stephen has been happily married to Presvytera Ashley since May 14, 1977. Their grown family are: Tara & Greg Pappas, Jessica & Andrew Reale, Justin & Lauren Powley, and Stephen Powley. Presvytera Ashley is a retired grade school teach. In his free time, Fr. Stephen loves mountain biking, hiking, backpacking, and mountain climbing. Before entering into ministry, he worked for the Forest Service as a smoke jumper, parachuting into wilderness areas to fight forest fires. He also worked for the National Park Service, directing the Youth Conservation Corps at the Grand Canyon, Yosemite, and Yellowstone National Parks. Fr. Stephen had a dramatic conversion to the Christian Faith while crewing on a sailboat in the Pacific Ocean which began a spiritual journey that led him to eventually enter the ministry to serve the Lord with his life. After graduating from seminary, Fr. Stephen became an Evangelical Protestant pastor. He and his wife, Ashley, continued their spiritual journey and it led them to the Orthodox Faith. They became convinced beyond any shadow of doubt that the Orthodox Church was indeed the very same Church that Christ had founded on this earth. It had not changed or evolved with any of the winds of doctrine that came about over the centuries. They became Orthodox in 1983 before their children were born. He became a prison chaplain in January of 1985 and served in every level of security until his retirement in August of 2010. Fr. Stephen loves being the priest at St. John's and the wonderful people he has the privilege to serve. If you are looking into the Orthodox Faith and have any questions...please email Fr. Stephen. He would be delighted to speak with you.