St. Jacob of Alaska Mission
St. Jacob of Alaska Mission
Our faith, worship, and community is a continuation of the 2,000-year-old original Christian Church.
Bend, OR
Who We Are
We exist to be a loving and healing shelter to all seeking the light of Christ by worshiping in spirit and truth, and loving our neighbor as ourselves. God Himself came into the world as a man, Jesus Christ, that all men should be saved. Therefore, we welcome everyone to join us as we strive to become by Grace what our Lord Jesus Christ is by Nature. We participate in the work of salvation by: • Worshiping as a community and sharing the fullness of joy and truth of Christ. • Uniting ourselves with Christ through prayer and the sacramental life. • Expressing the love of Christ through philanthropy, fellowship, outreach, and hospitality. • Educating people about the Truth and Tradition of the Orthodox Church. • Offering the Love of Christ to those in need, both in prayer and deed. • • We believe in Him, and strive to know Him and abide in Him, so that by grace we might receive from Him an eternal life of salvation. We actively participate in the sacramental and prayer life of the Orthodox Christian Church so that we may become Christ-like persons by His grace.
About Us
Leadership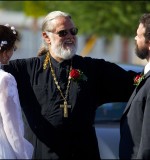 Fr. Damian Kuolt
Pastor
Archpriest Damian Kuolt has worked with mission parishes through the Western States, and is now newly located in Bend Oregon to serve St. Jacob parish . . . the only Eastern Orthodox Christian Church in Central Oregon. Fr. Damian has spent his entire adult life in search of God; to not just 'know about God', but to truly "know Him!". After attending the United States Air Force Academy, he met his wife of 45 years and they began a spiritual journey that led to the Orthodox Church. "I welcome everyone, no matter what your lot in life; to discover the life of the Church as handed down to us from the time of the Apostles. As a new arrival in Bend, I am devoted to sharing the Orthodox faith and spiritual life that leads to transformation. Each of us are created in the image and likeness of God, yet being born into a fallen world leaves us in need of the restoration of these divine attributes. This is the work of salvation, of 'adoption'. But it requires us to exercise our free will and choose the Way of Life in cooperation with the Grace of God. It is my calling to help each seeker, no matter where they are in this journey. I welcome you to come, 'taste and see' that the Lord is good"!