St. Francis of Assisi Anglican Mission Church
To bring Jesus Christ to our community and to bring our community to Jesus Christ.
Youngstown, OH
Who We Are
We are a charismatic group of Anglican Christians who love the Lord and worship Him in both Word and Sacrament. Our worship is traditional while incorporating contemporary music and providing the opportunity for personal expression of one's faith through prayer and praise. We believe that the ancient traditions still hold the mystery of the transcendent and are the ultimate experience of Christian spirituality.
About Us
Our Services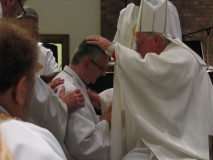 Fr. John Harris O.S.M.
Vicar
Father John entered the Postulancy for Holy Orders in the Anglican Church in North America in 2008 and was ordained a Transitional Deacon in 2012 and a Priest on April 27, 2013 by Bishop Roger C. Ames of the Anglican Diocese of the Great Lakes. He is also a Novice Brother in the Order of St. Michael the Archangel, a Religious Order of Anglican Priests and Brothers.