St Christopher's Community Church
Who We Are
A community church sponsored by the Episcopal and Lutheran (ELCA) churches.
St. Christopher's Community Church is a gathering of people from all walks of life seeking to follow Jesus at the heart of the Steamboat Island community of Olympia, Washington.
We're thinkers and prayers, seekers and hopers, friends and servants, and we share a deep confidence in God's love for the world. As a Christian community, our faith provides a center and guide for our lives. We gather for weekly worship and time together, and our identity as people of faith leads us to live with thoughtfulness, gratitude, and compassion.
---
---
Our Services
Service Times
---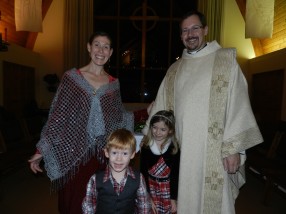 James Thibodeaux
Pastor & Priest
Fr. James was called to as pastor of St. Christopher's in 2014. He brings to us an emphasis on intergenerational ministry from infants to seniors, a love of authentic worship, inspiring sermons, a good sense of humor, and a kind heart. He has studied at both Lutheran and Episcopal seminaries and holds three degrees in Christian religion.
---