St Benedict's Abbey
Lifting the world to God in prayer since 1857.
Atchison, KS
Who We Are
In 1857, Benedictine monks founded St. Benedict's Abbey in Atchison, Kansas, to spread the gospel of Jesus Christ and the Catholic faith throughout the new American territory west of the Missouri River. The monks in our order rode hundreds of miles to the North and South and West, to gather Catholics, administer the sacraments, and found parishes. They also co-founded the "schools for the Lord's Service" that would become Maur Hill-Mount Academy and Benedictine College.
Today, from the great stone abbey towering high above the river, we serve as priests, spiritual directors, chaplains, and professors. Always guided by The Rule of St. Benedict and a commitment to prayer, work, and hospitality.
You are welcome to visit our home, and to join us in our celebrations of common prayer each day. The Abbey grounds afford an atmosphere in which quiet reflection and prayer are accessible to all. Men and women wishing to spend the night in our guest house, in the atmosphere of our monastic life, are most welcome. For more information see our Guest House Page.
The monastery is situated on the bluffs of the Missouri River, adjacent to the northeast corner of the campus of Benedictine College.
About Us
Our Services
Leadership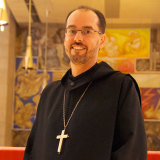 Abbot James Albers
Abbot James Robert Albers, a native of Ost, Kansas, grew up in St. Benedict's Parish of Bendena, Kansas. He went on to graduate from Midway-Denton High School, Denton, Kansas, in 1990. Abbot James graduated from Benedictine College in 1994 with a degree in Mass-Communications and Theology. He entered the novitiate in December 1995 and made his First Profession on December 8, 1996, and his Solemn Profession on October 2, 1999. After having studied at the Pontifical University of Sant'Anselmo, Rome, Italy, from 1997-2000, he was ordained to the priesthood on July 1, 2000. Following his ordination he did a pastoral year at Sts. Peter and Paul Parish in Seneca, Kansas, and served as Alumni Director at Benedictine College from 2000 until his appointment as Prior of the St. Benedict's Abbey community in July 2002. From 2005 to 2012, he served as the Abbey's vocation director. On December 28, the monks at St. Benedict's Abbey elected Father James as their ninth abbot. During his monastic life, Abbot James has been an able and well-respected Prior and sought-after spiritual director. He is widely regarded as an even-keel man who shares helpful spiritual counsel and possesses a charitable disposition and a pastoral concern for others.