El Cajon, CA
St Albans Episcopal Church
St Albans Episcopal Church
Equipping Everyone to Celebrate and Share God's love
El Cajon, CA
Who We Are
St Albans is a mid-sized parish, traditional liturgy based on Rite II found in the 1979 Episcopal Book of Common Prayer with the use of outside sources and progressive ideas. We are a diverse parish with ties to the refugee community having members from both the Karen and Chaldean Communities. We are also multi-generational with something for all ages. Our church's identity is tied to community outreach. We work with the Episcopal Refugee Network, run a Refugee Food Pantry on the first and third Tuesdays of the month. Offer classes for English as a second language, provide tutoring and mentoring for school aged children, minister to the homeless in Wells Park once a month. We have an active and thriving Sunday School and Children's Choir, a small but mighty ECW and partner with other like minded churches in El Cajon including First Presbyterian, First United Methodist, St John's Lutheran and Iglesia de JesuChristo Dios es Amour
About Us
Our Services
Leadership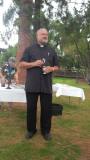 Rev. Dr. David Madsen,
Father Dave and his wife Naomi came to St Albans, as Rector in January 2013. He is a graduate of General Theological Seminary and has a PhD in Congregational Development from New York Theological Seminary and has worked extensively with Ecclesia Ministries of New York, helping establish congregations in the parks of NYC serving those living on the streets of the city. Ecclesia of NY was born out of the ministry of Holy Apostles in Manhattan, specifically their soup kitchen, the largest in NYC and the second largest in the nation.
Worship at Saint Alban's is eucharistic-centered following the Book of Common Prayer (1979). Sunday morning services are more formal and include singing hymns, scripture readings, children and adult sermons and Holy Communion. Incense may be used on the major feast days. Midweek services are brief, spoken and informal – more like sitting around the fire place in a friend's home. The monthly Wells Park service ministered by the Welcome Church is the least formal and includes Holy Communion. All are welcome to come as you are and to be fed spiritually by the Lord through his Word and at his table.