St. Alban's Episcopal Church - Arlington, TX
An open and affirming
Arlington, TX
Who We Are
St. Alban's Episcopal Church in Arlington, Texas is an open and affirming parish in the Episcopal Diocese of Fort Worth. We believe in the dignity and worth of all people, and we strive to see and serve Christ in every person.
We are making our temporary church home on Sundays at Theatre Arlington, 305 W. Main Street, Arlington. The site where we previously met, on South Davis, is currently being used by a church group from a different denomination. We are glad to gather as the Episcopal Church in Arlington, and we know that wherever we worship, God is there with us.

We hope you will come and worship with us in our unique location, where we are reminded that we are called to be the church in the midst of the changes and drama of life. As we set up our altar each week, we recall that Christ has come into our midst, spreading his banquet feast, and inviting all to come to the table he has set before us. Our world view grows every few weeks with the changing theater set that frames our altar!
About Us
Our Services
Leadership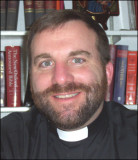 The Rev. Kevin Johnson
Priest in Charge