Spirit of Christ Community Church
Who We Are
The Church where all people matter!
Spirit of Christ is a multiracial, radically inclusive, spirit-filled, sacramental church
---
---
Our Services
Service Times
---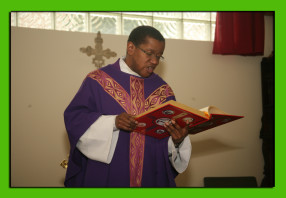 David Strong
Rev Strong was ordained into the priesthood of Independent Catholic Movement in 1992. He has served as Pastor of Community Church of Joy, Seattle 2004- 2007 and Sojourner Truth Ministries, Seattle, Washington. 2007-2011. He formed Spirit of Christ Community Church in July 2012. Rev. Strong serves as the Executive Director of the AIDS Housing Association of Tacoma(2006-) and is active in our community, currently serving on the University of Washington Nonprofit Management Advisory Board. He was a founder of the Religious Coalition for Equality and serve on the boards of the Pride Foundation, and Multi-faith Works. He studied Theology at the University of Saint Thomas/Saint John Vianney Seminary in Saint Paul, Minnesota and the University of Washington Nonprofit Management and Human Services Management certificate management program.
---