Richardson, TX
Solomon's Porch
Solomon's Porch
Love God. Love others.
Richardson, TX
Who We Are
Solomon's Porch is a three year old church plant in the city of Richardson with a vision for reaching beyond the barriers of race, age, gender, and bank accounts. Following the example of the New Testament church, our desire is to look like the city of Richardson in all its diversity.
Martin Luther King Jr. once said, "11:00 am on Sunday is the most segregated time in America."
Sadly, decades later, his words are still true. We believe God has called us to reverse this trend as best we can, starting with Solomon's Porch. If this sounds like a vision you can get behind, then Solomon's Porch may be the church for you.
We welcome you to come and experience Solomon's Porch for yourself.
About Us
Our Services
Leadership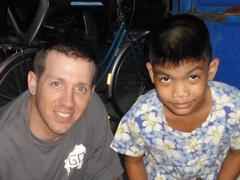 Jason Barr
Jason and his wife Sandi were married in 1997 and have two amazing kids, Jordan (son) and Sydney (daughter). They have spent their entire time together in ministry, first as youth pastors, followed by eleven years ministering to college students. Sandi has a degree in Health and Physical Education from Arkansas Tech University, and is an elementary PE teacher in the Richardson school district. Jason has a degree in Speech Communications from Southwestern Oklahoma State University and is also a credentialed minister with the Assemblies of God. Jason loves sports and is a long suffering Cubs fan. Sandi enjoys reading, being a mom, and playing volleyball. Above everything though, they love God and have an unwavering desire to see Solomon's Porch impact the city of Richardson for His Kingdom.