Shell Ridge Community Church
Shell Ridge Community Church
Living the call of Jesus through justice, service, and hospitality.
Walnut Creek, CA
Who We Are
Will I be welcome at Shell Ridge?
Yes! We welcome everyone and do our very best to be accommodating. All have something to contribute as we are all partners in God's work. Some churches say you are welcome but then try to change you so you fit in better and believe what they believe. We think you are beautifully and wonderfully made, and we hope, with the help of God, to help you see that too.

What do you all believe?
We believe in the right of all people to experience God as they wish, to interpret the Bible in ways that bring them spiritual joy, and to seek and display the love of Christ in multiple ways. We do not always see eye to eye on every matter, but we welcome and respect the differences that we have. We experience God as a God of love, and we experience the world as a creation out of that love. As such, we are all children of God.
To us faith and belief are matters of the heart as well as of the mind. We do our best to educate ourselves and explore theological matters from an informed place. We also value the importance of feeling the Spirit move in our midst and in our souls.

What about the Bible?
The Bible is fundamental to our faith. We read scripture during every service and use it as a foundation for our exploration of belief and as a guide for our lives. We believe the Bible is inspired by God. Although we do not take it literally, we do believe that it possesses truths about God, humanity, and the world.
What can I expect at Shell Ridge?
At Shell Ridge you will find a welcoming community that treats one another like family. We are there for each other when there is need and we help one another gladly. We are also a church committed to fairness and equality and seek to be God's hands in our community and in our world.
About Us
Leadership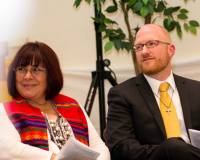 Liliana DaValle
Liliana is the Interim Pastor at Shell Ridge Community Church. She has been with us since May of 2011. Before that she was the head pastor of First Baptist Church of Alameda and has also served as a the Executive Minister of Rhode Island. She is pictured here with the Associate Pastor, Chris Shade.