Seneca, SC
Seneca Presbyterian Church
Seneca Presbyterian Church
Seneca, SC, Presbyterian, PCUSA, Contemporary and traditional services
Seneca, SC
Who We Are
When you walk into the doors of Seneca Presbyterian Church, you will be welcomed by a congregation of truly amazing people. At Seneca Presbyterian Church, we choose to make ministries of care and compassion the focal point of our life together. That means caring for each other through all the challenges life can throw at us. It means being there to help meet a need - whether it is a ride or a prayer. It also means caring for our community and those in need around us. Seneca Presbyterian Church people live out their faith in generous giving of their time, their resources, and their hearts.
The idea didn't start with us. Jesus taught us that the heart of faith is the love of God and the love of neighbor. He said it this way: You shall love the Lord your God with all your heart and with all your soul and with all your mind and with all your strength. You shall love your neighbor as yourself.
Are we perfect? Not at all. But as Presbyterian Christians, we believe the grace of God is meant to change us, bit by bit. Grace gives us the vision and the power to be partners with God in the re-creation of the world. Such a high calling requires faith that is nurtured in community with others as we explore the meaning of discipleship through spiritual formation and then practice that discipleship through worship.
We invite you to join us soon and put our claim of hospitality to the test!
Reverend Doctor Nancy M. Morris
About Us
Our Services
Leadership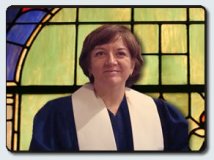 Nancy Morris
Pastor Dr. Nancy M. Morris joined Seneca Presbyterian Church on August 29th of 2010. We at Seneca Presbyterian Church are honored and blessed to have Pastor Nancy leading our church and congregation. Pastor Nancy is a caring and compassionate person who is dedicated to her knowledge of the Bible and teachings. Our congregation strives to have a theologically sound, non-judgmental, intelligent, and caring pastor. Dr. Pastor Nancy M. Morris has and continues to go above and beyond our expectations. Her commitment and compassion is obvious through her teachings, her involvement in the community, and faithfulness to our church. She is waiting to meet you and hopes to see you this Sunday, or before!