Sandbridge Community Chapel United Methodist Church
Sandbridge Community Chapel United Methodist Church
A Methodist (UMC) church in Virginia Beach, VA
Who We Are
We are a unique seaside community with a passion for missions. With a devotion to the Word of God, we look for new ways to share the story of our Savior's love and grace. We have both a traditional and a contemporary service to reach today's children of God.
About Us
Our Services
Leadership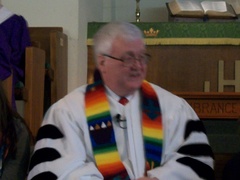 Clyde DeLoach
Attended William and Mary; graduated Averett University BA; Southeastern Baptist Theological Seminary M.Div.; Baylor University Phd. Worked as Respiratory Therapist and has taught school at all levels from elementary to graduate school.
I am the director of Men's Ministries at Felton Presbyterian Church and I am connecting with possible speakers for our men's retreat in the spring of 2021. I am trying to get in contact with Kenny Underwood, of One-Minute-Sermons on YouTube. I understand Kenny is a member of your church. Would you please forward this message to Kenny? We would like to consider Kenny as the speaker at our conference in April 2021 in California. We would pay his round-trip flight to San Jose, CA, his lodging, and a speaking fee of $2,000 for three one-hour talks. Please have Kenny call 831-566-8626 or email me at

[email protected]

Thank you.