Salem United Methodist Church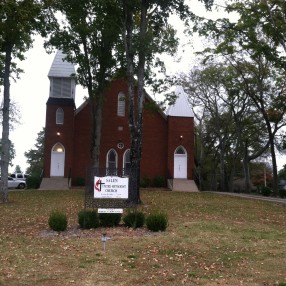 Who We Are
Small, Rural, Community, Methodist church
Salem UMC is a small rural church located just outside of the Murfreesboro city limits.
We use the traditional Methodist hymnal as reference for our worship and we are proud to call our congregation a "come as you are church"
Worship time - 8:45am
Sundayschool- 10:00 am
---
---
Our Services
Service Times
What to Expect
---
Bob Tuttle
Pastor Bob Tuttle is from Dallas, Texas and pastors the Salem Charge in the Murfreesboro area which consists of three churches; Salem UMC, Old Leb UMC and Farris Chapel UMC. He is a local pastor, has attended Martin Methodist and Candler School of Theology at Emory University and has been the pastor at Salem Charge for seven years. Pastor Bob is married to Diane Tuttle and they live in Tullahoma, TN. They have six children, seven grandchildren, two dogs and their nest is empty except for the dogs. Before becoming a pastor, Bob worked in the printing industry in Dallas TX, Washington DC, and Memphis, Chattanooga, and Nashville TN. Golf is his longtime passion and he plays as often as he can.
---
Such a warm and welcoming church family that I am so happy we found.

What can vistors expect??? Friendly folks!!! My wife and I have been attending this church only a short time and were made to feel right at home from day one!!! We really like the feel of the small church setting as it makes you feel like you matter and that you are not going to a concert and watching the big screens... Plus, as a methodist church goes, I must say we have some of - if not THE BEST cooks come pot luck time!!!