Saint Margaret of Scotland
SMOS: Spreading the Gospel of Christ's Love
Chicago, IL
Who We Are
Saint Margaret of Scotland Church is a Catholic community of worship and service on the south side of the city of Chicago. Our church has stood proudly on 99th Street for nearly 100 years. It serves as a symbol of our rich history of faith in the Lord Jesus as we gather daily at the Eucharist.
We are a diverse community and we are a welcoming community.
We also are very proud of our elementary school.
About Us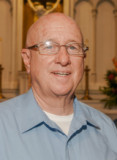 Pete Doyle
Pastoral Associate
Pete Doyle is the Pastoral Associate for Saint Margaret of Scotland Parish. He works with the Pastor and parish community to provide for the liturgical, sacramental and service needs of the faithful.
It's where I was baptized in 1947.