Saint Athanasius Anglican
Anglican, authentic, Jesus, worship, Bible, Liturgy,
Glen Allen, VA
Who We Are
If you are seeking a church to call home that hasn't given in to secularism come stand with us to proclaim the Gospel of Jesus Christ to those in need and those seeking orthodoxy.
If you are concerned about fitting in somewhere we are friendly and welcoming and there are opportunities for you to learn and use your gifts. We live in community to strengthen and support each other through common worship and life in faith.
About Us
Leadership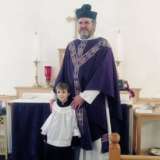 Fr. Thomas Allen