Rolling Hills Baptist Church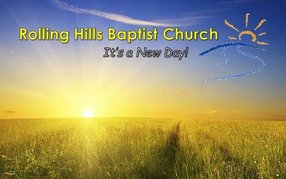 Who We Are
People often ask, "so...where exactly is your church?".
The answer is "we're everywhere." Our church is not an institution; it's a missional movement serving in the city square, under the bridge, over the border and on the far side of the tracks. Our church is in the classroom, in the boardroom and in your living room. Wherever you find the lost, the last or the least...we want to be there too.
Yes, we gather at the NCG Cinema at Fischer Crossings on Sundays at 9:30 am, but we don't believe that church is a place...we believe that it is a community of people who are devoted to serving Jesus by serving others. During the week we meet in small groups in people's homes, sharing life and growing relationally and spiritually.
Do you want to change the world? So do we. In fact, we're so passionate about it that we sold our 20 acre campus and relocated to a movie theater so that we could be more embedded in our community.
Discover more about us and our missional journey. Who knows...maybe it'll become your journey too!
---
---
Our Services
Service Times
What to Expect
---
Frank Mercer
My Family In 1988, God blessed me with a beautiful wife (Pam) and has since blessed us with 4 amazing kids - Pete, Maddie, Evan and Jake. Every single day they fill my life with love and laughter. My Life Verse Galatians 2:20 I have been crucified with Christ and I no longer live, but Christ lives in me. The life I live in the body, I live by faith in the Son of God, who loved me and gave himself for me. My Life Changing Experience When I was 7 years old, I came to an understanding that I was a sinner who needed a Savior. I trusted Jesus to forgive my sin and make me His forever friend. He did and my life is eternally different. My Role at Rolling Hills Because I believe that a Great Commandment church will emerge as a Great Commission church, it is my purpose to do whatever it takes to lead our church to love people more by loving Jesus most. As God uses me to preach, teach, feed, lead and love this amazing church...the target will always be to reach more lost people, grow more people toward maturity in Christ, and launch more people into a lifetime of devoted ministry. My Passion It is my life passion to lead others to faith in Christ and enable them to reach their full potential in Him.
---