Revival Temple Fellowship Ministries
Who We Are
Revival is here! Come and be revived!
We are a Nondenominational Ministry which believes:
The Holy Bible is the spoken and inspired Word of God, written by holy men of old as they were directed by the Holy Spirit, and is the final authority in faith and practice. 2 Pet. 1:21, 2 Tim. 3:16. In the filling and free movement of the Holy Spirit, that indwells and empowers the individual believer that has received Jesus the Christ as Lord and Savior. Acts 1:8, 2:1-4, 1 Thess. 5:19.
In the trinity of God the Father, God the Son, and God the Holy Spirit, these three being one but operating distinctively. 1 Jn. 5:7, Jn. 10:28-31, 14:25, 26.
We believe in operating within the Five-Fold ministry as described in Ephesians 4:11. And the gifts of the Spirit as described in 1 Corinthians 12:4-11, Romans 12:4-8.
---
---
Our Services
Service Times
Sunday
11:30am

-

Bible study and Morning Worship
Thursday
07:00pm

-

Mens Fellowship
What to Expect
---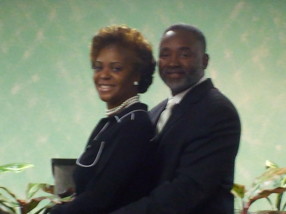 Dr. Robert C. & Tiffany Robinson
Founders/Pastor
Dr. Robinson is a native of Pittsburgh, PA and a graduate of Peabody High School. As a Child ,he attended the Calvary Baptist Church of Pittsburgh, PA . In October 2000, he joined the Central Baptist Church under the leadership of Rev. Victor J. Grigsby and was licensed into ministry July 2001 . He attended the American Baptist Theological Seminary of Pittsburgh, PA. with studies in Theology 2001-2003. He attended the Light of the World Redeemed Bible College and Institute of Pittsburgh, PA. where in July 2005, he received his Masters of Theology, and in March 2008 awarded an Honorary Doctorate of Divinity Degree. In November 2005 he accepted the call as pastor of Friendship Baptist Church, Washington, PA. and served until August 2010. Rev. Dr. Robert C. Robinson is the Founder and Pastor of Revival Temple Fellowship Ministries of Pittsburgh, PA, which he began in October 2010 with his Lovely wife Tiffany Davis Robinson.
---