Who We Are
Everyone is welcome at Radiant. Come as you are. No matter who you are, where you've been, or what you've done, this is a safe place to explore the important questions of life. We don't care about who you voted for or what you wear. However, we do strive to live as Jesus lived and love as Jesus loved. Come visit some time!
About Us
Our Services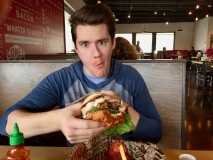 Ben Mueller
Family Pastor
Ben Mueller is married to his lovely wife Susan. Ben grew up in Ankeny, IA where he lived until moving to Pleasant Hill. Ben was called into ministry the summer after graduating High School and spent three and a half years at Oklahoma Wesleyan University before graduating in 2011 with a BA in Pastoral Ministry: Biblical Studies. Ben has been working with students since 2007 and enjoys Ultimate Frisbee, gaming, eating, movies and spending time with friends and family. Ben is passionate about ministering to kids of all ages, seeing true life change and community all while eating buffalo wings.
Very casual come as you are atmosphere. People are very friendly and the teachings are very relevant to everyday living.

I love Radiant Church because everyone is genuine! The teachings are awesome! Also "Kids are a big deal"