Prospect United Church of Christ
Who We Are
open and affirming,progressive christian,liberal,
Prospect Congregational UCC is ...
a community of believers, seekers, and doubters, concerned more with questions rather than simple answers;
Open and Affirming, welcoming all to join us, regardless of religious, national or ethnic background, sexual orientation, gender identity, economic status or various abilities;
part of the progressive United Church of Christ (UCC) Protestant denomination;
a neighborhood institution with over 100 years of faith and service;
music lovers!
No matter who you are, no matter where you are on life's journey, you are welcome here!
We support an in-house preschool for low-income children and a variety of other ministries in our community.
We love to sing and have a strong choir. Other activities include Bible study, a "Beyond Fundamentalism" book group, and a film series on themes of social and environmental justice.
---
---
Our Services
Service Times
Sunday
10:30am

-

Casual, all-ages worship
What to Expect
---
Leadership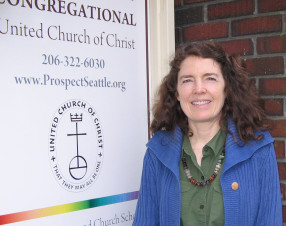 Meighan Pritchard
Pastor
Meighan Pritchard is delighted to be serving as pastor at Prospect Congregational UCC, first as interim minister from March 2012 - June 2014, and as settled pastor effective July 1, 2014. Meighan received her master of divinity degree in 2010 from Pacific School of Religion in Berkeley, California. In 2011, she served as sabbatical supply minister at University Congregational United Church of Christ in Seattle. Prior to seminary, Meighan was an editor, an elementary music teacher, a church handbell choir director, and administrative support at Seattle Symphony for both the education department and the Seattle Symphony Chorale. In 2006, she joined CrossWalk America to walk from Phoenix, Arizona to Washington, D.C., talking about progressive Christianity as articulated in the Phoenix Affirmations. The book Asphalt Jesus, by Rev. Dr. Eric Elnes, and the film Asphalt Gospel, directed by Scott Griessel, document this trip. A year at Sightline Institute, a sustainability think tank, sharpened Meighan's desire to work on environmental challenges from within the faith community.
---