Piedmont church of Christ
Piedmont church of Christ
God Honoring Worship, Compassionate Outreach, Encouraging Fellowship
Farmville, VA
Who We Are
The Piedmont church of Christ is a family of Christians who are striving to love God with all of our heart, soul, mind and strength and love our neighbors as ourselves by following Jesus with our heads, hearts, and habits. We are not a part of any denomination. We are simply Christians, genuinely trying to be what God wants us to be while imitating Christ. We are far from being perfect or always right but are striving to take God at his Word and simply obey Him.

We believe that the New Testament is our authority in religious matters. Therefore we strive to speak where the Bible speaks, and be silent where the Bible is silent.

We care about people! Buildings, budgets, and denominational traditions take a back seat to the great social and spiritual needs that we see in Virginia, the Piedmont, and the Farmville area.

Nobody can make it through this life on their own. With God's help we are striving to strengthen families and marriages; to encourage parents and children; and to help heal broken homes and hearts.
About Us
Our Services
Leadership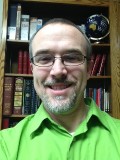 Josh Lynch
Minister
Josh Lynch was born and raised in Tulsa, OK. In 2003 he graduated from Harding University with a bachelor of science degree. In 2015 Josh earned a Master's degree in marriage and family therapy. Josh Lynch and his wife, Trisha are the the parents of four children. Josh and Trisha moved to Farmville, VA and joined the Piedmont congregation in 2006. Josh served Hampden-Sydney College and Longwood University as campus minister and he began preaching full-time in 2015.