Old River Assembly of God
Who We Are
Assembly of God, Church, Christian Church, Dayton, Old River, Mont Belvieu
What We Believe

The mission and ministry of Old River Assembly of God is to worship God, edify the believer, and reach the lost. We seek to glorify our God and Savior, Jesus Christ. We desire to make true disciples throughout all the nations by means of missionary activity and support, to minister the ordinances, to edify believers, and to do all that is sovereignly possible and biblically permissible to magnify the name of Jesus. We desire to love God and to love others.
Our vision is to be seen as a lighthouse of God's Grace, a beacon of hope, a place where the hurting, the hopeless, and the helpless come face-to-face with God's supernatural presence, provision and people who reflect the very loving, serving, caring, miraculous presence of Almighty God, Himself.
Old River Assembly is a place where the believer is challenged, equipped, and encourage to be ALL they were created to be.
We are all continually challenged to do strategic planning for Old River Assembly of God, and evaluate what we do best (strengths), where we can improve (weaknesses,) how we can better reach out community for Christ (opportunities,) and what might the enemy attempt to use to try to stop our efforts (threats.)
Please pray for our church and may God show each of us how to impact more men, women, boys and girls than ever, more effectively than ever.
We Invite you to come and join us!
---
---
Our Services
Service Times
Sunday
09:45am

-

Sunday School

11:00am

-

Main Service

06:00pm

-

Sunday Night Service
Wednesday
07:00pm

-

Wednesday Night Service
What to Expect
---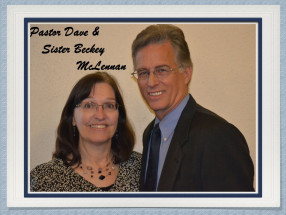 Dave McLennan
Senior Pastor
As the primary teaching pastor, Pastor Dave has a passion for carefully unpacking the truths of Scripture. He has served at Old River Assembly for six years as of November 2015. He and his wife have four children, with 3 currently serving as Children's Pastors. Pastor Dave is a devout musician, and helps to lead worship at the church. He is a loving and compassionate Pastor, with a shepherd's heart. His hobbies include flying remote controlled planes, and shooting sports. We love our pastor. We believe you will, too!
---