North Gainesville Baptist Church
A Loving Church Serving a Living Savior
Gainesville, FL
Who We Are
North Gainesville Baptist Church is an independent, fundamental, Baptist church. Our philosophy of ministry is very simple: we want to see the lost saved and the saved growing spiritually and serving Christ. We have a vision and a determination to fulfill God's Great Commission.
Our services are centered on the preaching and teaching of God's Word. We believe His Word is inspired and without error; therefore, it is authoritative on every subject of life and death, the sole authority for faith and practice.
We have been blessed through the winning of lost souls to Christ, families built and strengthened for the glory of God, men and woman surrendering their lives to full-time Christian service, and planting a new church building in Gainesville.
About Us
Leadership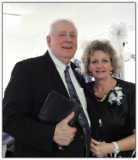 Gary Manning
Pastor Gary Manning was born in Jacksonville, Florida, and grew up in nearby Hilliard. He and his wife, Pat, were married in 1972. In 1975, a Christian friend led both Gary and Pat to Christ. Pastor Manning graduated from Baptist Bible College in Springfield, Missouri (BBC) in 1979 with both a B.A. in Bible and a Graduate of Theology degree. After seminary, he immediately began to minister in Baptist churches in Jacksonville, Florida and Waycross, Georgia. He went on to pastor the First Coast Baptist Church in Fernandina Beach for over three years. God then led Pastor and Pat Manning, to First Avenue Baptist Church in Hilliard, Florida, where he pastored for eight years. God called him to NGBC to be our pastor in mid-December 2002.