New Macedonia Baptist Church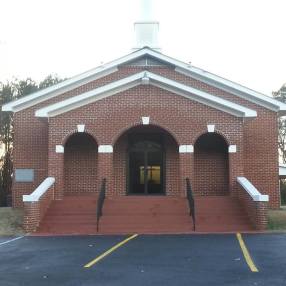 Who We Are
Church History
The New Macedonia Baptist Church was first organized in April, 1881. The first meetings were held under a brancharbor. During the following winter the congregation was permitted to meet in a nearby church of which Mev Chambers was pastor.
In 1883, two years later New Macedonia Baptist Church built its' church home, a small box like structure with planks running horizontally outside. Instead of glass windows, wooden shutters were used.
The land for the church and the adjoining cemetery was donated by John Chambers and Dr. Don Parrish. It was deeded in 1903.
M.J. and Georgia Shirey donated approximately one acre to the church in 1910. Our church had a home and was growing.
Then tragedy struck. On Sunday morning November 14, 1932, the members of New Macedonia Baptist Church did not attend service because earlier that morning the church burned to the ground.
Until a new building was constructed in 1933, the congregation met in a nearby school. At this time the total number of members had reached 188. Church property was valued at $3,700.00.
The pastorium was built in 1949, next door to the church. Our church was again on the rise with members and property. In 1959, Houston and Ruby Duckett donated approximately one acre to the church. In 1960, the wood framed church building was torn down to begin construction of our present building.
In 1976, 2.06 acres was donated to our church in memory of Mrs. Irene Fletcher McConnell.
Again our church is growing. With attendance growing, remodeling, and making more classrooms, we feel our church, with God leading the way will carry us into the future.
Our Beliefs​
We believe the Holy Bible is the inerrant Word of God. It is the divine authority on all matters. We believe God revealed Himself through Jesus Christ as Creator, Lord, and Judge. We believe in the Virgin Birth of Jesus Christ, and that He is the Messiah. He is the one and only Son of God. We believe He died on the cross for us, and His blood washes away our sins. He rose three days later as He had foretold. He is the one and only way to salvation and eternity in Heaven.
​
---
---
Our Services
Service Times
Sunday
09:45am

-

Sunday Scool

10:45am

-

Worhsip Service

05:00pm

-

Discipleship Training

06:00pm

-

Evening Service
---
Bro. Roger Watkins
I was born in Aroney, Alabama where I lived till I was 21. I attended Snead State College followed by Luther Rice Seminary in Florida. I married Betty Whitehead from Union Grove, Alabama. We have two children and two grandchildren. I have been preaching for 42 years, and this church is the sixth church I have pastored. I also pastored at First Baptist in Rainsville, Alabama; Emmanuel Baptist in Columbus, Georgia; Union Grove Baptist in Crossville, Alabama; Westside Baptist in Ft. Payne, Alabama; and Bethsaida Baptist in Boaz, Alabama. I love the Lord and believe the Bible is God's Holy Word.
---